Nottingham based GEM Vending Ltd has celebrated its 50th anniversary by acquiring Allen Vending becoming,in the process, the largest privately owned operator in the East Midlands.
"Bob Allen and Alan Ball have been our friends in the industry for many years. They have an enviable reputation for their honest and loyal approach,  both to their staff and their customers", GEM Chairman Steve Gallagher said. "The joining of our two companies is a perfect fit and can only enhance and broaden our service further and secure local jobs in the Midlands."
The enlarged GEM Vending Group will be based at GEM's current head office on the outskirts of Nottingham.
Bob and Alan are delighted to have done the deal. "We know we're leaving our amazing employees and many loyal customers in great hands", they said in a statement. "GEM Vending has an ethos, spirit and flexibility that mirror ours and that's why we're confident that with them at the helm, our customers will continue to enjoy an excellent service."
GEM Vending
GEM Vending opened for business in 1968. By the early 1970s the company had 15 field operators servicing 300 machines daily, serving factory workers instant coffee and tea drinks in small cups. Steve Gallagher joined the Company in February 1972 as Operations Manager and in subsequent years, he gained a thorough understanding of every aspect of the business before finally taking the reins in a management buyout in 1993.
A move to a new head office in 1999 accommodated further growth and GEM acquired 4 local companies and integrated them smoothly, creating and securing more local jobs in the area.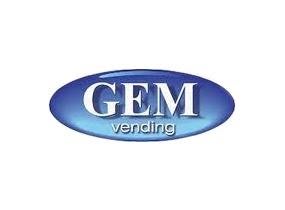 In 2011, GEM Vending broke new ground with the introduction of a unique and innovative approach to healthier vending choices  . QR codes were placed on 1500 machines, giving communities and work forces easily accessible nutritional information on every product that could be consulted prior to making a purchase.
More on GEM Vending in Planet Vending's archives, HERE
Allen Vending Website, HERE